AUSTRALIAN NATIVE NURSERY PERTH
Zanthorrea Specialises In Australian Plants
Australian native plants are well known for their unique beauty. Long neglected as garden plants in Western Australia, they have had a recent surge in popularity as water-wise alternatives to traditional garden plants. Plant breeders, both in Australia and overseas are developing cultivars and hybrids with wide appeal. As well as looking spectacular in the contemporary or bush garden, our local flora is highly attractive to birds and other native animals.
All the plants we grow on site are potted on by hand and our nursery meets Both NIASA (Nursery Industry Accreditation Scheme Australia) and SGA (Sustainable Gardening Australia) standards.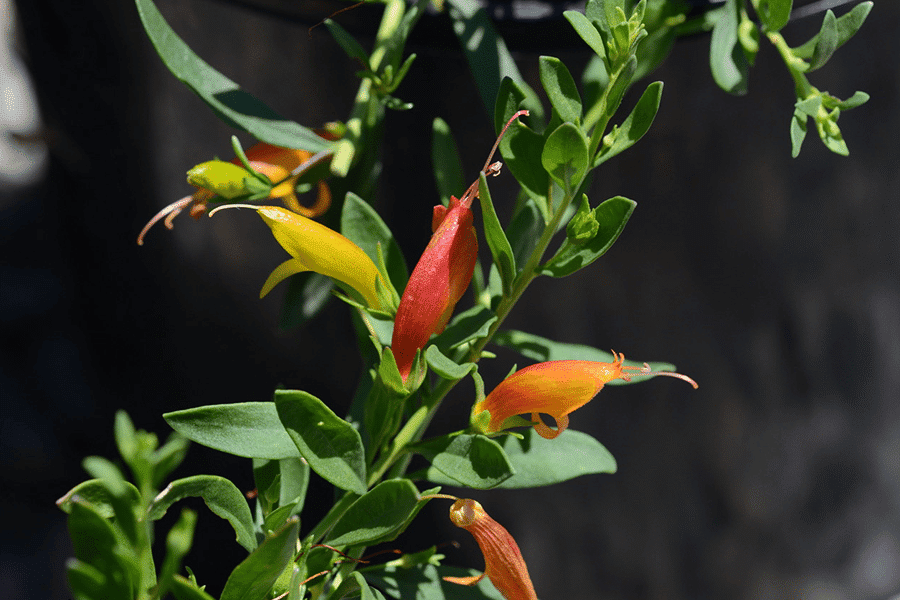 Anigozanthos 'Bush Diamond'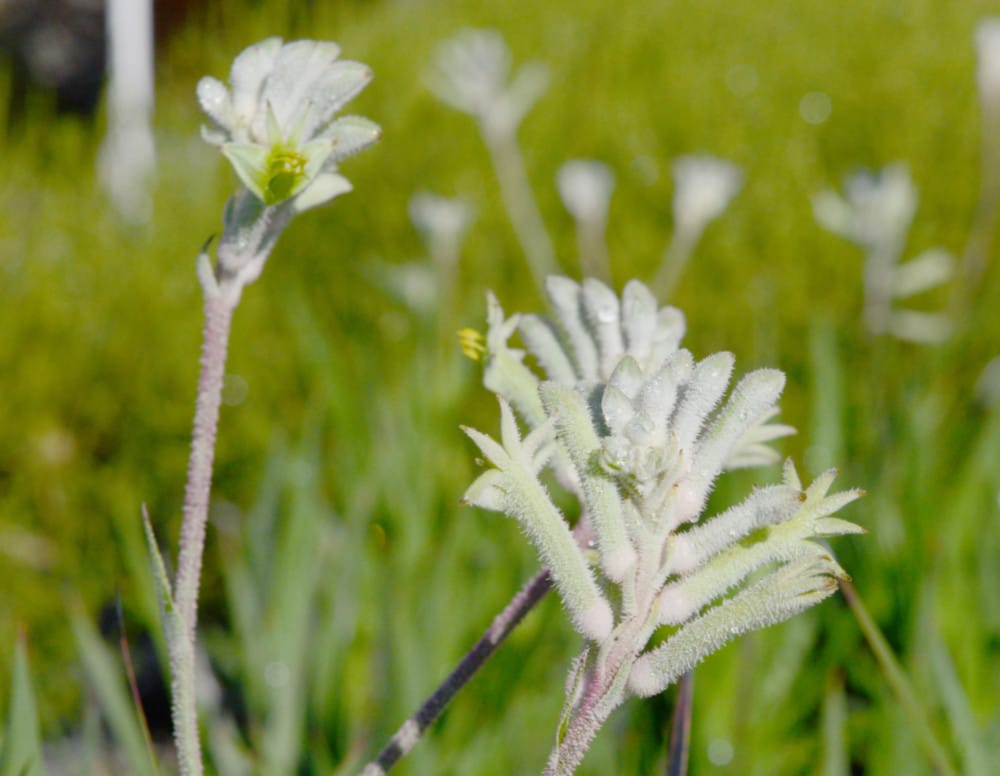 One of the many dwarf kangaroo paws which will flower for most of the year. Prolific white flowers, with a pink tinge at the base, put on
a showy display from late autumn to early summer. Great in pots, or mixed with other kangaroo paws in mass plantings. Cut flower spikes back to ground level once they start to lose their colour. Regular feeding and plenty of summer water are the key to keeping these prolific flowerers looking great.
70cm H x 50cm W
$1 from the sale of each plant will be donated to Kanyana Wildlife Rehabilitation Centre.
In this list you will find information on flowering time, colours and heights for plants we often have available. Our plant list is a helpful guide to the plants grow, but doesn't show current availability or pricing. If you are interested in any plants on the list, please give the nursery a call to check availability and pricing.
Grevillea "Winter Delight"
A low growing Grevillea with crowded, grey foliage and bright pink flowers for most of the year, but the main flush of flowers occurs in the cooler months. Nectar feeding birds can't resist a visit! Great in mixed garden beds, low borders or pots. Best in full sun in free draining soil. Frost hardy once established.
30cm H x 1.5m W
Argyle Apple
Eucalyptus cinerea
Native to NSW and Vic, this medium sized tree for is grown for its lovely blue/grey foliage which creates colour and interesting texture contrast in the garden. The foliage is popular to use in floral arrangements due to its colour. With regular pruning, this tree can be kept small and used as a hedge or wind break. Best in full sun in sandy or clay soils, will tolerate poor soils and periods of drought once established.
18m H x 8m W
Acacia
"Green Wave"
This is a very low form of Acacia howittii, or the Sticky Wattle. It has a strong central trunk with gracefully arching branches covered in small mid-green leaves. Great as a feature cascading over a wall or in a large hanging basket or pot. Best in full sun, but will tolerate part shade. Grow in free draining soil.
Less than 1m H x 1.5m W
Corymbia torelliana
Cadaghi
A fast-growing, large tree from Queensland, with a lovely smooth, grey trunk which turns green when wet. Small white flowers supply nectar and pollen for bees and birds in summer. Large, rough mid-green leaves provide a wonderful canopy, making this a great shade tree. Come into the nursery and see the one we have had providing shade for our chooks and the playground for more than 30 years!
20m H x 10m W
Hypocalymma angustifolium
White Myrtle
A small shrub, local to the hills and throughout SW WA. Thin, dark green, freshly scented leaves are overwhelmed by small white flowers, which cover the stems in winter-spring for a stunning display! A very adaptable plant which grows in full sun or shade, in sandy or heavy soils and is drought hardy once established.
Melaleuca rhaphiophylla
Another WA native which naturally grows along watercourses throughout the south-west. A great tree for swampy or poorly drained areas, but will also grow in sand and limestone! Can be used to help stabilise banks and slow erosion. Beautiful, white, bottlebrush flowers will attract birds to your garden in spring to summer.
Can get up to 10m H, but usually less x 3m-5m W
What else is at Zanthorrea Nursery?
Native Tubestock
A big range of tubestock, with an extended range in Autumn to Spring. $4.40 each, or for 9 and above $4 each.
Vegetable Seedlings
We love growing our own veges and like to have a big selection for our customers.
Exotic Plants
A select range of exotic plants we have found to grow well in Perth.