AUSTRALIAN NATIVE NURSERY PERTH
Zanthorrea Specialises In Australian Plants
Australian native plants are well known for their unique beauty. Long neglected as garden plants in Western Australia, they have had a recent surge in popularity as water-wise alternatives to traditional garden plants. Plant breeders, both in Australia and overseas are developing cultivars and hybrids with wide appeal. As well as looking spectacular in the contemporary or bush garden, our local flora is highly attractive to birds and other native animals.
All the plants we grow on site are potted on by hand and our nursery meets Both NIASA (Nursery Industry Accreditation Scheme Australia) and SGA (Sustainable Gardening Australia) standards.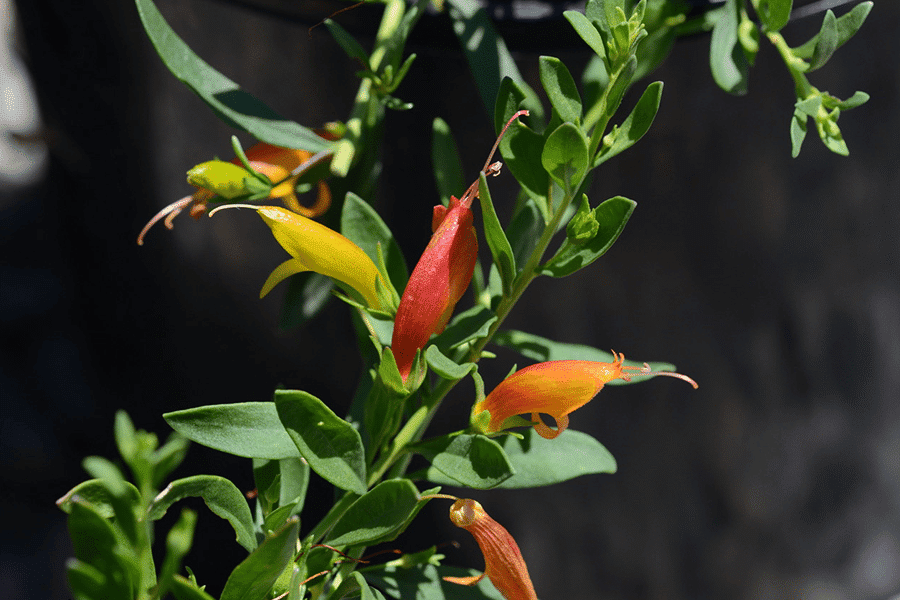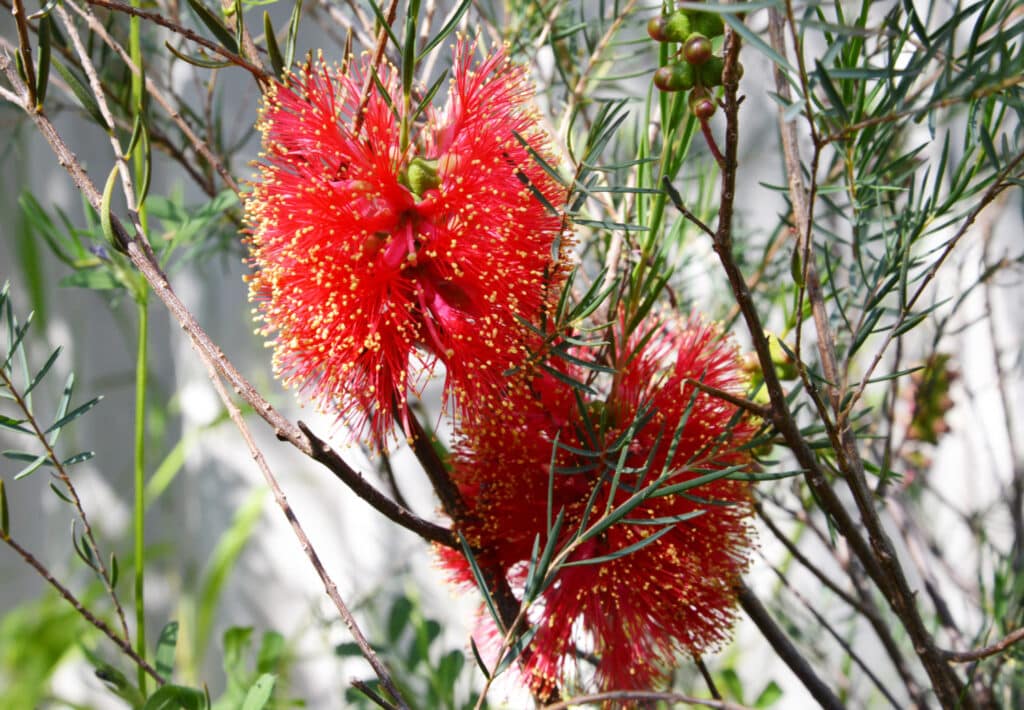 Melaleuca fulgens 
A tough
,
 small
to
medium shrub, which is widespread across
the southern half of WA
.
Will grow in
pretty much any
soil
,
from
shallow soil,
gravel
,
sand
,
clay
and areas of seasonally poor drainage
and watercourses
.
An open habit makes it a great garden bed filler which will become the star of the show when it flowers in winter to spring.
The
colour
of the vibrant bottlebrush style flowers can vary through white, pink,
orange
and
purple, but are most often red.
Prefers full sun, but will grow happily under trees too. Tip pr
une after flowering to promote bushier habit and more flowers.
1m to 2m high.

In this list you will find information on flowering time, colours and heights for plants we often have available. Our plant list is a helpful guide to the plants grow, but doesn't show current availability or pricing. If you are interested in any plants on the list, please give the nursery a call to check availability and pricing.
Eucalyptus erythrocorys
If you drive around anywhere in Perth at the moment, you will no doubt see one of these eye-catching trees with its bright red caps, which fall off to allow the large yellow blossoms to explode out for a beautiful display of colour. After the flowers, the Illyarrie produces huge nuts, which are popular with seed-eating wildlife, as well as for decoration and craft. The creamy coloured trunk produces a range of interesting and architectural shapes, so don't expect a tall, straight habit from this one. Any branches that get a bit too gnarly can be easily pruned off. Will grow in a range of soils from limestone, to sand and clay. Best in full sun, drought hardy once established. 6m H x 4m W
Grevillea 'Dorothy Gordon'
A quick growing hybrid Grevillea with unusual, stunning mauve/purple, bird attracting flowers all year round. The brown hairs on the stems and grey hue of the leaves provide colour contrast in the garden. Great for hedging and screening or in mixed garden beds. Plant in full sun or part shade in free draining soil. 3m H x 2m W
Anigozanthos 'Bush Elegance'
A strong performing hybrid kangaroo paw which doesn't grow too tall and produces big displays of beautiful red/burgundy flowers in spring which are loved by nectar feeding birds. Cut back the old flower spikes to ground level in spring to keep the plant neat and tidy. Best in free draining soil in full sun or part shade with regular summer water. Great in pots and mass planted or mixed with other coloured kangaroo paws. 60cm H x 50cm W
Myoporum bateae
This delicately weeping, large shrub is a lovely addition to mixed garden beds or planted as a feature specimen. Long, dark green leaves are contrasted beautifully with the pale pink/mauve flowers, clustered along the stems in spring. Plant in a sheltered spot with afternoon shade and water regularly through summer.  3m H x 1.5m W
Hakea petiolaris - Sea Urchin Hakea
A fast growing, local large shrub with tough blue-green leaves and stunning clusters of creamy-pink pompom flowers. If you love its close relative, Hakea laurina, you may want to consider one of these too! The nuts and seeds of this plant provides an important food source for the endangered black cockatoos who delight in tearing them apart! Use towards the back of mixed garden beds or as an informal screen. Grow in free draining clay or sand in full sun. Drought and frost hardy once established. 5m H x 2m W
Macropidia fulginosa
Native to an area from Perth to Geraldton, this is a stunning kangaroo paw with striking black and green flowers in winter-spring with strappy blue/green leaves. Great in pots or mass planted in garden beds. Prefers a free draining soil in full sun. Frost hardy once established.  50cm leaves 1m Flower spikes
What else is at Zanthorrea Nursery?
Native Tubestock
A big range of tubestock, with an extended range in Autumn to Spring. $4.40 each, or for 9 and above $4 each.
Vegetable Seedlings
We love growing our own veges and like to have a big selection for our customers.
Exotic Plants
A select range of exotic plants we have found to grow well in Perth.